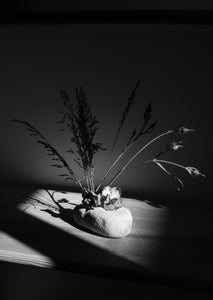 CAMILLE KATONA | Co-Founder of 19/99 Beauty
Day to day, I use scent as a pick-me-up to either set a mood or feel put together. Whether it's lighting a candle or putting on perfume, scent creates a sense of pleasure and joy. I keep going back to the smell of roses, as it makes me feel connected to myself. It's bright and fresh, a scent I have loved since middle school that makes me feel like me. So, if I could save one smell, that would be the smell of fresh-cut roses. They are not my favorite flower but the smell is like nothing else.
In fact, if I were to think of myself in scent ingredients, my heart would definitely be rose. I've been obsessed with all things rose-scented or flavored since middle school and anyone who knows me well knows I love rose. I enjoy scents such as rose or violet, that others seem to hate. I love anything that some would consider 'old lady'. My base would have to be vetiver. I gravitate towards leathery, smoky and earthy scents, and wear a lot of black so, I think that it fits with my personal style too. I used men's cologne in the past and I think that scent should be unisex. I believe that the industry is headed in that direction. Finally, my top note would be pink pepper because I like the juxtaposition of spice mixed with something delicate like rose.
A pre-pandemic smell concentrated in a time capsule took me back to dive bars. Sadly, some of my favorite bars in Toronto closed down due to the pandemic. I miss late nights there with friends. I think I'll have to revert to the smell of spilt whisky, but maybe somewhere in Europe. That smell just signifies crowds of people and music, and I can't wait to be around friends and dance again. To me, pure bliss smells like fresh air, the sea, fresh cut grass, and maybe some more spilt beverages.