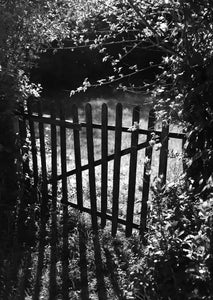 MARIA ANSDELL | Studio Manager at Experimental Perfume Club
I was eighteen in Florence and was spending my days wandering through the city, visiting galleries and meeting all sorts of wonderful people. Whilst walking past various trattorias and tourists near the Piazza di San Giovanni, I was struck by a scent. A nonchalant breeze brought the sea, the spring, ice and warm skin straight to my nose. It had oceanic electricity and warm muskiness at the same time. It seemed to color my immediate vision bright blue and yellow and lifted my body just a little higher into the air. For a moment I was hypnotized, and then the breeze carried on its way. I walked around those streets most days to try and find the scent, not content with the possibility I might never smell it again. I was so determined to discover the source that I spent a whole afternoon in the original spot. The breeze must have known I was there—it brought the smell to me energetically so I could follow its trail. The odor became brighter and more certain as I walked towards a shop tucked away in a passage. Square, aquamarine bottles gleamed in the window next to an open door, and after trying to convey my excitement to the shopkeeper with some basic Italian—questo è un buon odore—I bought a bottle of the perfume. I smell it when I want that visceral memory of discovering a scent, and one that defined a pivotal point in my young adulthood.
I am always drawn to the breezy freshness of oceanic fragrances, which is no surprise because I adore wild swimming and truly believe there is nothing more soothing than being by the sea. I'm usually sold by anything which features the words marine, ozonic, algae or solar in the description, however conceptual they may be! Even the bright, slight soapiness of coriander, which is sometimes paired with these aqueous fragrances, is something I love. These scents have an energy and freedom about them that is just addictive. Scent and curiosity are inextricably linked in my life. Every bottle, plant, room, country and person I haven't yet smelled is an opportunity to deepen my understanding of the world. We are surrounded by aromas that are as invisible, transient and untouchable as they are vibrant, lasting and real. How magical is that?
Experiencing new scents is always exciting. There's a delightful secrecy in sniffing through bathroom cabinets and kitchen cupboards or inhaling perhaps a little too closely when I hug someone new—I'm constantly adding new smells to my bank of olfactory knowledge. Yet, the transformation of a smell from something new and unfamiliar to a scent that is distinct and familiar, as it becomes associated with people and places, is one of my greatest pleasures in life.
Life before the pandemic has, to me, the scent of a room full of people dancing. I miss how an entire space was filled with the smell of sticky and sweet alcohol, sweat, chewing gum, cheap body sprays and violet-esque lipstick. I miss opening a door to a freezing cold street when the wind would hit you with petrol and takeaways. Certainly not the most glamorous of smells, but ones that defined the times people spent together. I adore dancing, and it is something that makes me feel most connected to myself, my body and other people.
An energetic coffee accord, or something clean and cool, like vodka or spearmint, could be both my top and heart. I'd want the first impression and body of my scent to have a lively and bold character, which is how I feel when dancing. An alternative heart ingredient is an ode to my sweet tooth. I inherited my love of white chocolate from my mother, and I'd love the vanilla-creaminess of the chocolate and the comforting memories associated with it to feature in my fragrance composition.
There is nowhere I find more peaceful than a forest, and I am enchanted by the history and mysticism of woodlands. I would love to have a base grounded in green and nutty wood notes. It is also important that my ingredients feel sunny and warm, as I was born in the summer and it's my favorite season. The woody aromas would be complemented by an amber note: the golden, honeyed nature and the way it warms the skin would be just like the dappled sun warming the bark of a tree.